Brown slug This slug is yellow-brown or grey-brown,darker on the back.Foot fringe is pale with dark transverse stripes.Sole yellowish-white with white specks. The mantle shield covers a third of the body.The animal is about 50-60 mm long. Mucus is yellow or orange. Eggs are variable in size 2.25-3.35 x 2.25 mm,white and leathery.They are laid in clusters of up to 50 eggs and hatch in 3-5 weeks. In forests through Europe.

Arion(Kobeltia)distinctus Mabille,1868 Is lighter colored than A.hortensis.Mucus is orange-yellow and sole orange. In gardens,parks and fields In West-and South-Europe,and North-America.
Arion(Kobeltia)intermedius Normand,1852 Animal pale yellowish grey,darker on the back,head dark.The center dorsal tubercles are yellowish-white.Foot fringe yellowish grey and sole yellow-white. Mucus yellow. Length 15-20 mm. In woods and fields where it feeds on fungi.

Arion(Kobeltia)hortensis Ferussac,1819 Animal small and slender,dark brown to grey with yellow-brown dots.A dark longitudinal band runs on both sides,sharp edged towards the back but blurs into pale grey towards the foot.The fringe of the foot is yellowish,sole yellowish to orange. Mucus colorless,body mucus pale to dark yellow. Length about 25-30 mm. In northern Europe they have a life cycle of a year.After breeding in summer, during autumn,winter and spring the young grow to mature within a year. During dry spells or freezing conditions A.hortensis can burrow under the ground till a depth of a metre. The eggs are 2.5 x 2 mm,opaque yellow and sticky.They are laid in clusters of up to 30 eggs.There may be a second or third cluster in 3 week intervals. In gardens,parks,fields and woods,very common. In north Europe,central Europe,also north France and Spain.Introduced in North-America.

Prophysaon andersoni Cooper,1872 Reticulate Taildropper The coloring of the slug can be variable:pale brownish,reddish grey or yellowish. The mantle is paler,usually with a pair of dark lateral bands, while the tentacles are darker colored.The footfringe is pale and the pneumo- stome close to the middle.Mucus is lemon yellow to orange.Fully stretched Prophysaon can be up to 6 cm.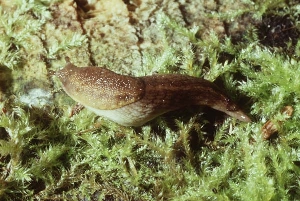 The animal lives in woods and gardens in damp conditions under logs,leaf litter, rocks and plants.In North-America and Canada.
Prophysaon boreale Pilsbry, 1948 Northern Taildropper
Prophysaon dubium Cockerell,1890 Papillose Taildropper Body dark and tapering,the sole is pale with grey edges.The mantle is fine papillose throughout. The color of the body is purplish gray,with various darker clouds,sometimes in two main bands on the mantle.The neck is lighter with some spotting. Length about 8 mm. In Washington.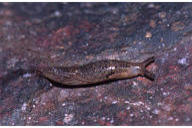 [photo:(c)William Leonard]
Prophysaon coeruleum Cockerell,1890 Blue-gray Taildropper Body and mantle blue grey,paler at the sides,with a white sole.The mantle is finely granulated,and is 7 mm long and 5 mm wide.The pneumostome is 2.5 mm.The body is sub-cylindrical and tapering. Length about 25-43 mm. In Washington and Oregon.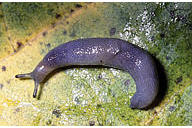 [photo:(c)Kristina Ovaska]
Prohysaon foliolatum Gould, 1851 Yellow-bordered Taildropper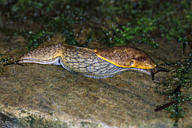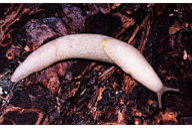 [photos:(c)William Leonard]
Prophysaon humile Cockerell,1890 Smoky Taildropper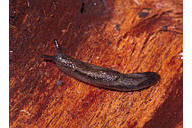 [photo:(c)William Leonard]
Prophysaon(Mimetarion)vanattae Pilsbry, 1948 Scarletback Taildropper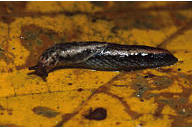 [photo:(c)William Leonard]
Pallifera dorsalis(Binney) Body ashy with shade of blue with an interrupted black line towards the back.Upper tentacles black, lower tentacles lighter.Shape of the body is narrow cylindrical.Base of foot white.Pneumostome very small. Length about 18 mm. In Ontario,VT,MA,PA,VA,MN,IN.
sub-family Binneyinae Binneya notabilis Cooper Shell depressed,oval,spire depressed,color pale yellow. Length 13.3 mm and width 8.9 mm. Animal whitish,with about 17 vertical rows on both sides of greyish blotches.These blotches are on the whole body.Tentacles and head greyish. In California.(extinct?).
Kootenaia burkei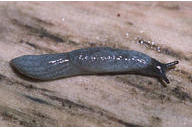 [© 2004 William Leonard] Distribution:Idaho(USA)
Hesperarion mariae Branson,1991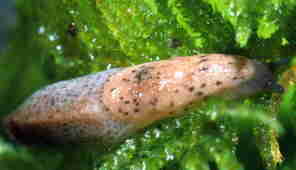 Distribution:Oregon(USA) [© 2001 William Leonard]
Hesperarion niger Cooper,1872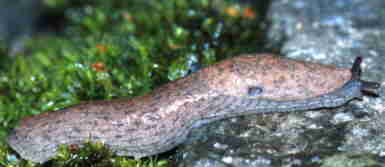 [© 2000 William Leonard] Distribution:California
Magnipelta mycophaga Pilsbry,1953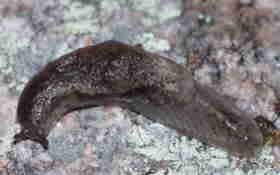 [© 2003 William Leonard] Distribution:British Columbia,Washington,Idaho,Montana.
Udosarx lyrata Webb,1959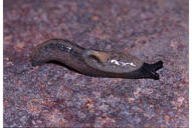 [© 2000 William Leonard] Distribution:Idaho,Montana(USA).
Zacoleus idahoensis Pilsbry,1903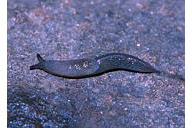 [© 2001 William Leonard] Distribution:Idaho,Washington,Montana(USA). Home